RealPlayer Converter Transfer your video and music to your devices
RealPlayer Converter is a video and audio file conversion program. You can take files you created or downloaded from the internet, and prepare them to go anywhere.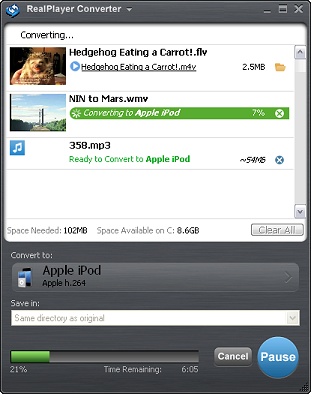 Convert multiple files at the same time, and extract just the audio from video files
Use RealPlayer Converter to covert multiple videos into different formats, or the same file into multiple formats. You can even extract the audio track from video files.
Converter profiles with settings optimized for each device
We've provided you with pre-installed device Converter profiles that have been optimized for popular devices such as the iPod, iPad, iPhone, Smartphones, and MP3 players. Just select the device you want to watch your videos on, and let Converter take care of the rest.
Create your own custom device profile
Create your own custom device profile. Set audio and video encodings, resolution, bitrate to create a profile that meets your specific needs.
To use RealPlayer Converter
Download the Basic Player
Play. Download. Bookmark. Organize. Share.
Play almost any video file format easily
Download and bookmark videos from thousands of websites with one-click. Expand your video library!
Convert videos to the format of your choice
FREE DOWNLOAD
Version: 16.0.3.51 | Updated: Aug 22, 2013
RealPlayer Basic features are free.
Premium Feature - "Advanced Transfer", "PlayPack"
Transfer videos faster / to H.264 / Convert MPEG2
Speed up video conversion, and convert MPEG-2 formatted videos into other formats. Encode videos in H.264 to plays on devices like PSP and PS3.
Feature Overview
Speed up file conversion by 100%
Convert MPEG-2 videos into other formats
Convert Videos into H.264 for playback on PSP and PS3
Play, convert and trim more high quality videos with advanced video PlayPack
- Codecs supported: H.264, VP8, MPEG-4, Xvid, DivX4 and DivX5
- File types supported: MKV, AVI, Xvid, WebM and DivX