RealPlayer Trimmer Keep only the key part of a clip
RealPlayer Trimmer lets you choose the part of an audio or video clip that is important to you.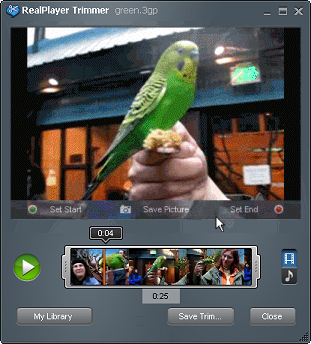 Simple and intuitive UI
Use your mouse to drag the start and end point settings configure what part of the audio/video you want to trim.
Cut and save just the parts that matter to you most
Trim and save the just the important parts of your favourite audio and video files. You can also take snapshots of frames in your video files.
To use RealPlayer Trimmer
Download the Basic Player
Play. Download. Bookmark. Organize. Share.
Play almost any video file format easily
Download and bookmark videos from thousands of websites with one-click. Expand your video library!
Convert videos to the format of your choice
FREE DOWNLOAD
Version: 16.0.3.51 | Updated: Aug 22, 2013
RealPlayer Basic features are free.
Premium Feature - "PlayPack"
Play, convert and trim even more video types
The Premium Player allows you to play back, convert and trim high quality video files.
Feature Overview
Play, convert and trim more high quality videos with advanced video PlayPack
- Codecs supported: H.264, VP8, MPEG-4, Xvid, DivX4 and DivX5
- File types supported: MKV, AVI, Xvid, WebM and DivX